The latest in a cryptozoology news, via The Guardian:
Now, a team of scientists say they are "95%" sure that Russia's wintry expanse is home to the mythical yeti, otherwise known as the abominable snowman.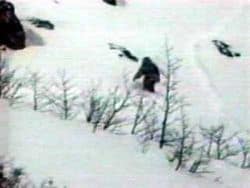 More than a dozen scientists and yeti enthusiasts flew in from Canada, Estonia, Sweden and the US to exchange findings with their Russian counterparts at a day-long conference in the town of Tashtagol, some 2,000 miles east of Moscow in the Kemerovo region. Locals there have reported an increase in sightings of a creature in recent years.
A two-day expedition to the region's Azassky cave and Karatag peak over the weekend "collected irrefutable evidence" of the yeti's existence there, the Kemerovo government claimed in a statement. "In one of the detected tracks, Russian scientist Anatoly Fokin noted several hairs that might belong to the yeti," it added. Scientists also found footprints, a presumed bed and various other markers.
Wouldn't "irrefutable evidence" of a yeti be a yeti?
(Note: photo is illustration, not part of any 'evidence' presented)
Russia Today reports on the Yeti gathering, AFTER THE JUMP…