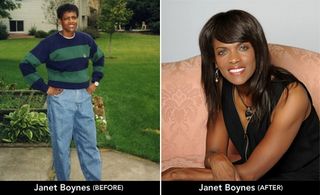 Janet Boynes used to be a lesbian. No longer! She's over that now. The before-and-after pictures prove it. And she's helping others get over their homosexuality at Janet Boynes Ministries.
Interviewed on a radio show, Boynes was more than happy to talk about her past drug and alcohol addictions, her failed engagement to a man, and her painful experiences with rape. But don't ask her if she's friends with Michele and Marcus Bachmann – because that's personal.
"You know, if you have a question for Congresswoman Michele Bachmann, I think you need to contact her. Anything about Michele Bachmann or Marcus Bachmann has nothing to do with my ministry. That's my personal life and we're not talking about my personal life. Anything dealing with my personal life, I choose not to talk about."
Then she gets personal:
"There are certain things I believe the propel us to go into a life of homosexuality, just like any other type of addiction that we have a tendency for going into. I was raised in a family of seven kids and had four different fathers. The man that my mother married, who was not my father, molested me and then I was molested by an altar boy. I never felt that men treated me right. I watched my mother be abused by my step-father."

She says statistics show that 90% of lesbians were molested, so she thinks they chose to give up men.

"We make a choice to either become heterosexual or homosexual. You don't come out of your mother's womb as an addict or a pedophile, you make a choice to do that, right?"
Rest assured: Boynes say she has nothing against the gay community. She loves gay people. That's why she "helps" them.