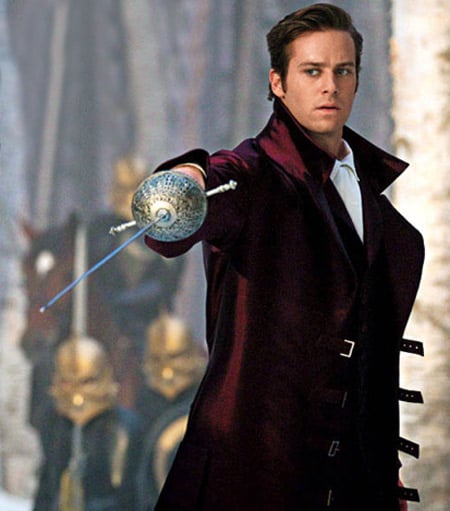 [More brand new Snow White images over at Entertainment Weekly]
This battle between the new and the old (i.e. familiar… DiCaprio is only "old" if you count his J Edgar prosthetics) is given visual form in The Ides of March. In a smart piece at Hollywood and Fine, Marshall Fine illuminates this for us. He writes.
It doesn't happen often. But every once in a while the stars – such as they are – align correctly and you suddenly see it: the tectonic shift in Hollywood when one generation of actors clicks into the superstar gear, just as the next generation of stars locks in right behind them.

Everyone knows who Clooney is, as well as his cohort: Brad Pitt, Hugh Grant, Robert Downey Jr., Johnny Depp, Will Smith, Denzel Washington, Russell Crowe… They've now reached their prime or are just gliding past it. Gosling is now where Clooney or Pitt were 15 years or so ago: an actor with some strong credits but not quite the mass-audience awareness.
Two of the new movie's most thrilling scenes both involve wordless challenges as Clooney and Gosling lock eyes. For us to believe the drama, Gosling has to read as Clooney's true equal. If there was any doubt that Ryan Gosling has just come into the full force of his movie star powers this year (Drive, The Ides of March, Crazy Stupid Love) it's erased right then and there.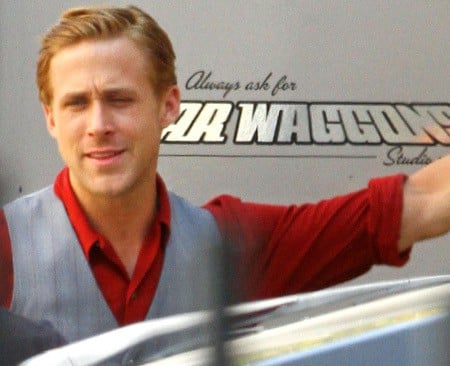 Gosling on the set of his next picture, "Gangster Squad" with Emma Stone
I've been thinking about this a lot lately so I thought I'd share a few groupings of (male) stars under 35 years of age (had to draw the line somewhere) that I personally think are the most exciting/promising in terms of what they could deliver over the next five years if they're lucky and get the right opportunities. 
Have they peaked or can they still surprise? Chris Evans, James Franco, Jake Gyllenhaal, Emile Hirsch, Channing Tatum, Shia LaBeouf and Jesse Eisenberg
Overvalued?: Armie Hammer, Alex Pettyfer, Anton Yelchin, Robert Pattison, Aaron Johnson, Cam Gigandet,Garret Hedlund etcetera…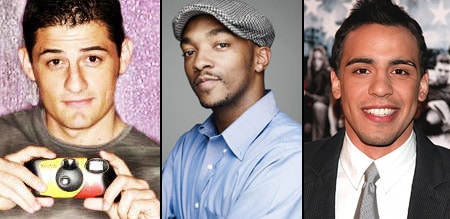 Gjokaj, Mackie and Rasuk 
Undervalued: Enver Gjokaj was the shortlived Dollhouse's MVP exhibiting range and mimicry skills to rival some Oscar winners (You know how the Academy loves a good mimic) but actors who start in sci-fi rarely get respect; Anthony Mackie has been doing sturdy work on the sidelines for years (Million Dollar Baby, Half Nelson, 8 Mile and many more) and then came The Hurt Locker… Jeremy Renner has been swimming in offers ever since but Anthony…?; Victor Rasuk was endearing and totally natural in Raising Victor Vargas and proved he wasn't a novice wonder in follow up efforts in small roles, particularly Stop-Loss. Cast him already!; If Weekend was a straight romantic drama wouldn't Tom Cullen suddenly be on the top of their list?; Jonathan Groff had fun with his Glee role but that charisma he exuded so casually in Ang Lee's Woodstock ought to have led to bigger things; And what gives with Lee Pace? He's been terrific as a series regular twice (Wonderfalls and Pushing Daisies) and compelling on both stage (The Normal Heart) and silver screen (The Fall, Miss Pettigrew Lives For A Day) and has movie star good looks; where are the high profile offers? 
Top Ten – Bring It On
10. I can't make up my mind…
9. Tom Hiddleston – His "Loki" in Thor put him on Hollywood lists but he was just as compelling in a tiny performance in Midnight in Paris. Next up: Steven Spielberg's War Horse.
8. Ben Foster -if he can learn to self-edit and avoid saying "yes" to everything he'll start giving genius performances.
7. Ben Whishaw – continually interesting even if the project is mediocre. Next up: Cloud Atlas and possibly the next James Bond movie.
6. Jamie Bell – More screen presence and creativity than most actors he ends up supporting. Next up: Steven Spielberg's TinTin (albeit an animated version of him)
5. Andrew Garfield -Hollywood friended him after The Social Network. If Spider-Man hits he can have his pick of roles.
4. Tom Hardy –Bronson suggested a live wire actor and Inception a true star. Lots of future work coming including The Dark Knight Rises and this fall's Oscar-seeking espionage drama Tinker Tailor Soldier Spy
3. Joseph Gordon-Levitt – Mysterious Skin, Brick, (500) Days of Summer, and 50/50 hint at a possibly endless and (better yet) totally exuberant range.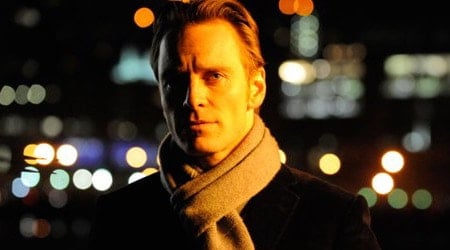 Fassbender lets it all hang out in Oscar calibre work in SHAME as a sex addict but Oscar
probably won't come near this explicit and emotional drama which opens in December. 
2. Ryan Gosling -the best actor under 35 on this side of the Atlantic, loaded with movie star mojo.
1. Michael Fassbender – the best actor under 35 on that side of the Atlantic powered by mystery, screen presence and total fearlessness. 
WHICH ACTORS ARE YOU MOST EXCITED ABOUT?
And which frequently employed star do you think is way overvalued?