President Obama was asked by George Stephanopolous about his "evolving" position on marriage equality. He said he's still "working on it", ABC News reports: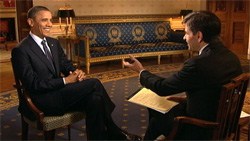 Obama, who was praised this weekend in the gay community, said his position on gay marriage was "evolving," but refused to say whether he would support gay marriage by Election Day 2012.
"I'm still working on it," he said of whether he would move from supporting civil unions for same-sex couples to supporting gay marriage.
In related news, the Washington Blade's Chris Johnson hammered White House Press Secretary Jay Carney today about Obama's remarks on Saturday night to the Human Rights Campaign in which the President discussed social progress, specifically the acceptance of a woman's wife by her father.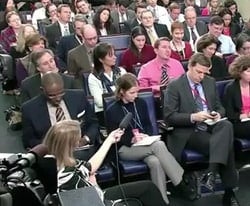 From the White House Press Briefing:
Blade: When he was talking about the American Jobs Act, the president said, "You're also folks who are worried about the economy and whether or not your partner or husband or wife will be able to find a job." Later on, when talking about progress, he said, "It happens when a father realizes he doesn't just love her daughter, but also her wife."
Should I interpret those remarks to mean the president now supports same-sex marriage?
Jay Carney: I would say that you're over-interpreting remarks. I would just leave it to you to analyze. The president's position on gay marriage is well known. The comments he made late last year about his views on it are well known, and I have no updates for you. I wouldn't read into language there any change.
Blade: But isn't it disingenuous for the president to speak reverentially about these people's spouses when he doesn't support same-sex marriage?
Carney: Again, I'll let the president address that question. I think this president's record on LGBT issues, his commitment to the rights of all Americans was evident on Saturday night both in his remarks and the response he got from the audience there, so I'll leave it at that.
Carney continued to dodge questions about when Obama's "evolution" would come to an end.
Watch this segment from the press briefing, AFTER THE JUMP…