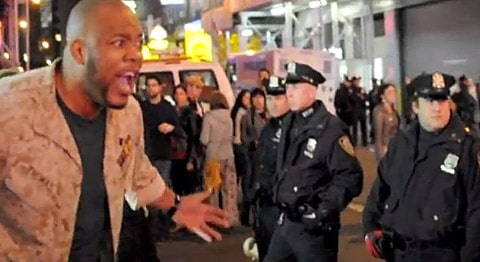 A Marine veteran faced down approximately 30 police in Times Square on Saturday night.
Writes the videographer BrklynJHandy:
"United States Marine Corps. Sgt. Shamar Thomas from Roosevelt, NY went toe to toe with the New York Police Department. An activist in the Occupy Wall Street movement, Thomas voiced his opinions of the NYPD police brutality that had and has been plaguing the #OWS movement. Thomas is a 24-year-old Marine Veteran (2 tours in Iraq), he currently plays amateur football and is in college."
Another videographer, thomasmonopoly, writes:
A veteran, Marine Sergeant Shamar Thomas, tries to explain to a squadron of riot police that they are not at war and they are not in a war zone and that they are needlessly arming themselves against children who mean them no harm. He tried to appeal to the riot police a few minutes prior but was initially mocked, which set him off on a tirade against the officers. He said his family had fought in the military for generations and he was ashamed to come home from Iraq and witness a police captain take down a young protester moments earlier in Times Square.
Watch both their clips, AFTER THE JUMP…
The AP reports that while the movement is receiving support financially ("The Occupy Wall Street movement has close to $300,000, as well as storage space loaded with donated supplies in lower Manhattan"), finding unity on issues and methodology is proving challenging:
There are signs of confidence, but also signs of tension among the demonstrators at Zuccotti Park, the epicenter of the movement that began a month ago Monday. They have trouble agreeing on things like whether someone can bring in a sleeping bag, and show little sign of uniting on any policy issues. Some protesters eventually want the movement to rally around a goal, while others insist that isn't the point.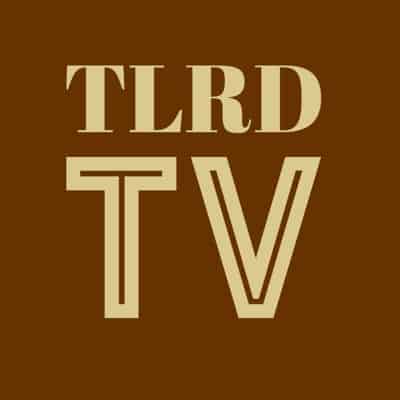 Another view: