The L.A. Times reports that three gay Marines have been discharged for "bad conduct" over sham marriages so they could receive housing allowances meant for heterosexual married Marines, and live together off-base.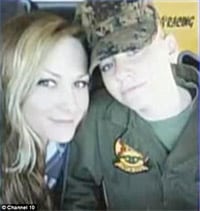 The Marines — two men and a woman — were assigned to the 3rd Marine Aircraft Wing and based at Camp Pendleton. The fourth person in the sham marriages is a civilian and thus untouchable by military law, officials said. Cpl. Ashley Vice and her partner, civilian Jaime Murphy, said they needed the housing allowances so they could afford to live together in an off-base apartment "like a normal couple."
Vice and Murphy each found a male Marine willing to marry them so that they could get the $1,200 a month housing allowance meant for married Marines, officials said. Along with the bad-conduct discharges, Vice, Cpl. Jeremiah Griffin and Cpl. Joseph Garner (the men they married) were each fined $5,000 and sentenced to confinement from three to six months. The three pleaded guilty to stealing from the government through fraud.