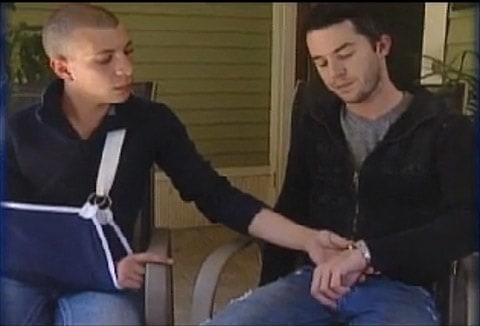 Jerry Pittman Jr. and his partner Dustin Lee were assaulted last week when they tried to attend a church service at Grace Fellowship Church in Fruitland, Tennessee, according to reports.
Pittman Jr. says his father, who is the church's pastor, instructed two deacons and Pittman's uncle to attack the couple and physically prevent them from attending the church service.
"My uncle and two other deacons came over to the car per my dad's request. My uncle smash me in the door as the other deacon knocked my boyfriend back so he couldn't help me, punching him in his face and his chest. The other deacon came and hit me through my car window in my back," said Pittman. He said bystanders did not offer assistance. He said the deacon yelled derogatory homosexual slurs, even after officers arrived. He said the officers never intervened to stop the deacons from yelling the slurs.
The couple says they were not allowed to press charges at the time of the incident, either.
Assault charges have now been filed against Deacons Billy Sims and Eugene McCoy and Pittman Jr.'s  father and Deacon Patrick Flatt. All are scheduled to appear in court tomorrow.
Watch, AFTER THE JUMP…