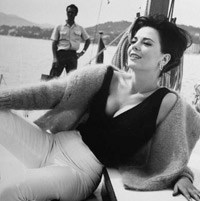 By now you've heard the news that they've reopened the Natalie Wood drowning case. I can't even talk about it  (vivid childhood trauma, circa 1981… the first actress I ever loved). The Robert Wagner family says they support the reopening.

Celebrated television writer Marti Noxon is working on a screenplay for a live action Tinkerbell film to star Elizabeth Banks (who is looking so interesting as "Effie" in that Hunger Games trailer). She recently spoke about the difficulties of getting anything original made. Even genre adaptations like her Pride & Prejudice & Zombies screenplay face tough climbs on their road to the screen. Noxon & Bank's Tink will have to be more worthwhile than Disney's currently ubiquitous reductive bratty interpretation. At the very least we hope the new version of girlpower is more interesting than "buy me clothes!".
Marti's claim to fame is the Buffy the Vampire Slayer television series. I just revisited it and it just never gets old, even as it hits yet more "how can that be ___ years ago?" milestones.

Select cities will get to see Michelle Williams do her best "Marilyn" over the holidays when MY WEEK WITH MARILYN opens. She even sings and dances in the film [check out this interview with one of her backup dancers]. Williams's best work to date has been very naturalistic portraits of low key sorrowful women (Blue Valentine, Brokeback Mountain, Wendy & Lucy) so it's a bit jarring to suddenly see her tackling showy divas like Marilyn Monroe or imagining what she'll bring to Glinda the Good Witch in Oz: The Great and Powerful. She's been flying back and forth between promotions for one and shooting of the other a lot lately. She promises her Glinda will be a reinvention so don't expect any Billie Burke or Kristin Chenoweth mimicry.

Yes, it's true Angelina Jolie's Cleopatra picture is still a possibility. Slow going it is but Rome wasn't built in a day. The project has recently acquired the services of Oscar winning writer Eric Roth so they're still throwing money at it.  Angelina isn't content with just one Great Woman bio though. She's also now attached to the life story of Gertrude Bell who travelled and mapped the world, particularly the Middle East.

And while we're talking up magical women from faraway lands, let's wrap with a short film via W magazine (from a recent photoshoot) called "Planet Tilda". The first couple of shots are so Wicked Witch wandering Iceland's black steamy lava rock fields, aren't they?