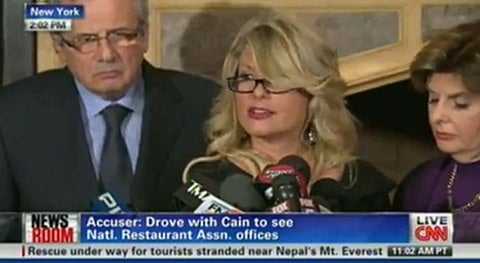 Earlier today, with attorney Gloria Allred at her side, Sharon Bialek, a former employee of the educational foundation of the National Restaurant Association, recounted a story in which she had asked Herman Cain for some assistance in finding a job, and accused Cain of sexual assault:
"While we were driving back to the hotel, he said that he would show me where the National Restaurant Association offices were. He parked the car down the block. I thought that we were going to go into the offices so he that could show me around. At that time I had on a black pleated skirt, a suit jacket and a blouse. He had on a suit with his shirt open. But instead of going into the offices, he suddenly reached over and he put his hand on my leg under my skirt and reached for my genitals. He also grabbed my head and brought it toward his crotch. I was very, very surprised and very shocked."
Allred later said that Bialek was coming forward in solidarity with Cain's other accusers and harassed women everywhere.
Watch, AFTER THE JUMP…