Just another Black Friday in America.
The riots have begun: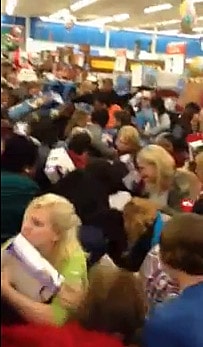 In Porter Ranch, a woman pepper sprayed customers at a Wal-Mart in what authorities say was a deliberate attempt to get more "door buster" merchandise. In San Leandro, a Wal-Mart shopper walking to his car was shot and wounded in a suspected robbery early Friday…
…At Porter Ranch, 20 customers, including children, were hurt in the 10:10 p.m. incident, officials said. Shoppers complained of minor skin and eye irritation and sore throats.
"This was customer-versus-customer 'shopping rage,'" said Los Angeles Police Lt. Abel Parga.
The woman used the spray in more than one area of the Wal-Mart "to gain preferred access to a variety of locations in the store," said Los Angeles Fire Capt. James Carson.
"She was competitive shopping," he said.
Check out the riot over a $2 waffle iron at Wal-Mart.
Watch, AFTER THE JUMP…
Here's video of the alleged pepper-spray melee: