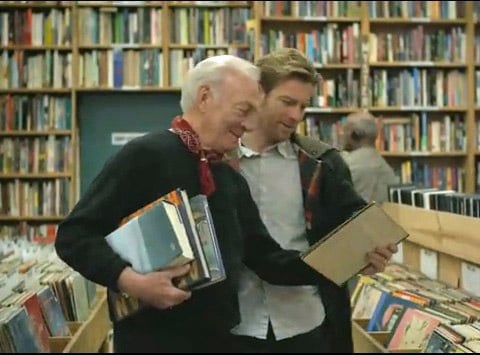 Film awards season has begun, and already there is a nice surprise.
Mike Mills indie film Beginners, about a son (Ewan McGregor) coming to terms with his father's coming out late in life, and Terrence Malick's The Tree of Life shared the top prize at the Gotham Independent Film Awards last night, Indie Wire reports:
Despite facing stiff competition from the much more buzzworthy "The Descendants," Best Picture was split between Terrence Malick's "The Tree Of Life" and Mike Mills' "Beginners" — both spring/summer movies that weren't seen as major challengers this fall that now have a considerable boost forward. In a shocking appearance, Malick arrived and a gave a half-hour acceptance speech and then moonwalked across the stage. (No, he didn't, but that would've been awesome). Meanwhile, in the documentary category, the win went to "Better This World," a film noticeably missing from the controversial Oscar shortlist that was recently revealed.
Heading over to the acting categories, another boost for Mills' "Beginners" as Ewan McGregor, Christopher Plummer and Melanie Laurent all shared in the Best Ensemble prize. Meanwhile, another hot contender went home empty handed as Felicity Jones snagged Breakthrough Actor for her turn in "Like Crazy" from the arguable frontrunner, Elizabeth Olsen, for her starmaking performance in "Martha Marcy May Marlene."
More on the awards over at Indiewire, but great news for Beginners, which is a wonderful film.
And the Hollywood Reporter tries to make sense of it all.
Check out the trailer for Beginners, AFTER THE JUMP…