Lawmakers in Moscow are planning to introduce a bill that would ban promotion of homosexuality, UK Gay News reports: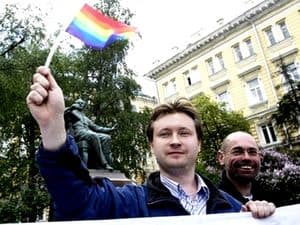 The move comes less than 48 hours after the legislature in Russia's 'second city', St. Petersburg, passed the first of three readings by a 27-1 (with one abstention) margin of their measure, 'The Promotion of Homosexuality, Lesbianism, and Transgenderism to Minors.
"Yes, we plan to adoption of this law in Moscow and now [are] just working on its development," chairman of the Moscow City Council Committee on Health Care and Public Health, Lyudmila Stebenkova told the newspaper, adding that the committee "commends the Legislative Assembly of St. Petersburg".
An anti-gay bill already passed once in St. Petersburg has the backing of the ruling United Russia party, AFP reports:
Gay rights activists held pickets and gathered signatures in a petition against the bill. Two people were detained Wednesday for standing with protest signs near the parliament building, local media reported.
Under the bill, anyone who committed "public acts" promoting homosexuality, bisexuality or transgender identity to minors could pay up to 3,000 rubles ($97.50), while an organisation could pay 10,000 to 50,000 rubles.
The bill gave no definition of a public act, with activists saying it could be used to crack down on gay pride events, which are regularly banned in Russia.
The bill also imposes the same fines for promoting paedophilia, tacitly equating it with homosexuality, which was decriminalised in Russia in 1993 under the presidency of Boris Yeltsin.
The bill passed on its first reading, and must pass in two more to become law.
Activist Nikolai Alexeyev (pictured) of GayRussia.ru condemned the bill:
Alexeyev said the bill could become "the main legal reason to deny any public actions by the LGBT community."
"It theoretically allows the ban of anything anywhere where kids could be present," he told The Associated Press.