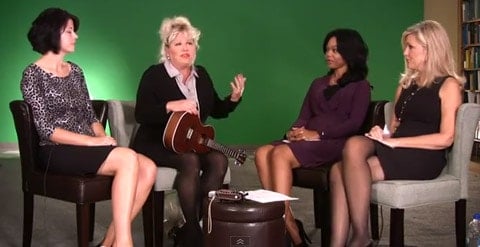 Victoria Jackson and three other conservative women have launched a new web talk show called 'Politichicks' in which they discuss how they are oppressed Christians, bullied into submission by marriage equality advocates. The PolitiChicks are former Saturday Night Live alumni and Tea Party favorite Victoria Jackson, pro-life speaker and activist Jennique Stewart, editor and activist Jennie Jones and Ann-Marie Murrell, columnist and host of The Patriot Update video show.
They write: "Finally, Conservative Americans will have an alternative to those other liberal-based talk shows in which women scream over each other and call Conservatives vile names. "
They also spend a good deal of time hating on Muslims.
"Islam says kill gay people that's why I don't get why liberals are pro-Muslim, and pro-gay," says Jackson, adding, "We're lucky that most Muslims are lukewarm or we'd all be dead."
Of liberals, editor Jennie Jones adds: "Have you noticed how they're all always so bitter? They don't have any joy. They don't have any good news, or…"
And then comes Jackson's whack theory: "And I've noticed that Eric Holder and Janet Napolitano have dead eyes. They have dead eyes…They could be aliens disguised as humans."
Watch, AFTER THE JUMP…