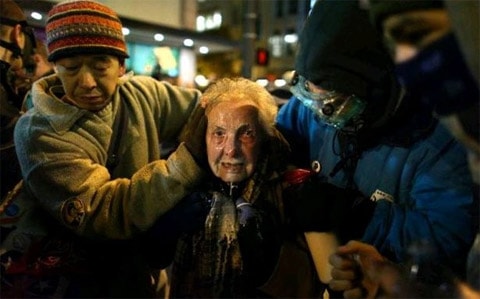 A stunning photo of 84-year-old Seattle activist Dorli Rainey, after she was pepper-sprayed by police last night at an Occupy Seattle protest, is making headlines this morning.
The Atlantic writes:
Dorli Rainey is a former school teacher who has been active in local politics since the 1960s. In 2009, she ran for mayor, but eventually dropped out by saying, "I am old and should learn to be old, stay home, watch TV and sit still."
The Seattle Post Intelligencer reports:
An elderly woman, a pregnant woman and a priest were among those who were pepper-sprayed during a protest in support of the Occupy movement on Tuesday.
Tensions mounted until police deployed pepper spray in an attempt to disperse the crowd and get the protesters out of the streets. About a dozen people were hit with the stinging fume.
"Pepper spray was deployed only against subjects who were either refusing a lawful order to disperse or engaging in assaultive behavior toward officers," said Seattle police spokesman Jeff Kappel.
Videographer Ansel Herz recorded a video. He writes:
For all their hyperbole, the guys yelling at the cops were accurate in pointing out that people were, at that point, standing on the sidewalk. When one protester seemed to puff his chest out aggressively, face-to-face with a cop, they grabbed him behind their police line and seemed to pile on top of him. As I tried to get it on camera, I was hit with a blast of pepper spray directly to the face. I saw it as it reached my eyes.
Watch Herz's video and a report on Rainey, AFTER THE JUMP…