The Western Black Rhino is extinct and two other rhino species are potentially extinct as well according to wildlife experts, the AP reports: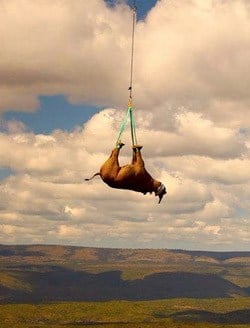 The International Union for Conservation of Nature said a recent reassessments of the Western Black Rhino had led it to declare the species extinct, adding that the Northern White Rhino of central Africa is now "possibly extinct" in the wild and the Javan Rhino is "probably extinct" in Vietnam, after poachers killed the last animal there in 2010.
A small but declining population of the Javan Rhino survives on the Indonesian island of Java, it added.
"A lack of political support and willpower for conservation efforts in many rhino habitats, international organized crime groups targeting rhinos and increasing illegal demand for rhino horns and commercial poaching are the main threats faced by rhinos," the group said in a statement accompanying the latest update of its so-called Red List of endangered species.
Gawker notes: "It should be noted that the Red List's assessment contradicts the far less dire one quoted by the World Wildlife Fund, which had estimated that 4,240 black rhinos were still alive."
Read the WWF's report HERE.
Watch a video on the African rhino poaching crisis, AFTER THE JUMP…
(image source)