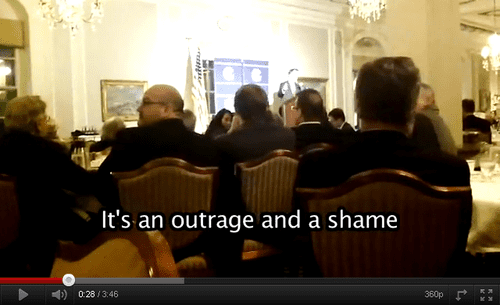 On November 3rd, "Stand Up! Chicago" brought Occupy to Wiscon's famously teacher-screwing, union-busting Governor Walker. As the governor launched into his remarks at the Union League club, the Stand Up! members in the audience, utilizing the "mic check" method of voice amplification made famous at Zucotti Park, promptly hijacked his speech:
Mic check! It's a an outrage and a shame/That we sit here at this fancy breakfast/To listen to someone/Who has wreaked havoc/On the lives of working families/Governor Walker has vilified unions/And insulted the 99/Who depend on living wages/And adequate benefits to support their families!
Stand Up! continued from there. Their discipline and chutzpah is astounding. Watch the vid AFTER THE JUMP.