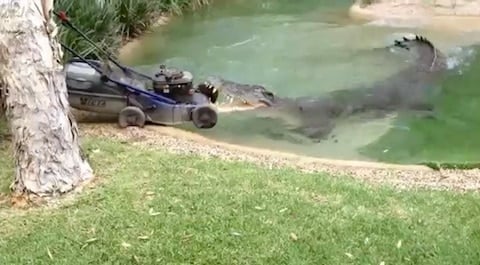 A giant saltwater crocodile named Elvis lunged at a lawn-mowing worker earlier today at the Australian Reptile Park near Sydney, the Guardian reports:
"Before we knew it, the croc had the mower above his head," Faulkner said. "He got his jaws around the top of the mower and picked it up and took it underwater with him."
The workers quickly left the enclosure. Elvis, meanwhile, showed no signs of relinquishing his new toy and sat guarding it closely all morning. Eventually, Faulkner realised he had no other choice but to go back in after the mower. Collett lured Elvis to the opposite end of the lagoon with kangaroo meat while Faulkner plunged into the water. Before grabbing the mower, however, he had to search the bottom of the lagoon for two 7cm teeth Elvis lost during the encounter. He found them and escaped from the pool, unharmed and with the mower.
Probably a wise idea to let the crocodile win.
Watch, the clip, AFTER THE JUMP…