Iran shows off film of captured U.S. drone.
TAB: Bolivian teen takes his own life by leaping into river of piranhas.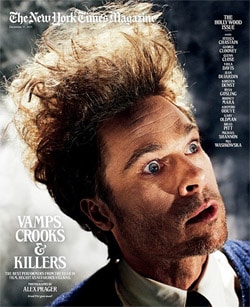 Brad Pitt is Eraserhead.
Ab Fab anniversary special gets premiere date: "Sunday, Jan. 8 at 10/9c on BBC America and Logo, TVGuide.com has learned exclusively. The special is one of three the networks are planning with everybody's favorite drunken dynamic duo, Edina Monsoon (Jennifer Saunders) and Patsy Stone (Joanna Lumley), who first graced our screens when Ab Fab debuted in 1992."
Pat Robertson reacts to Hillary Clinton's speech: "The blow" from God will be "horrible".
Did Santorum accidentally defend Obamacare?
NOM selling baby bibs that say "I believe in natural marriage." "Other items include a baby onesie, a travel mug, and a beach tote, which the organization sells under a 'Cool Stuff to Buy' promise. But I'd be careful before buying any of them. After all, if the attached cause is any guide, the items are actually cool on their way to becoming ice cold, destined to be threadbare by Christmases not-so-distant future."
Rolling Stone names Adele's "21" the album of the year.
VIDEO: Sean Hayes and Snooki in the first trailer for The Three Stooges.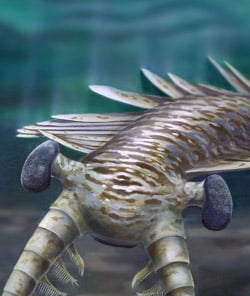 Ancient sea predator had monster vision.
Anti-gay art causing controversy at Seoul National University in South Korea: "Mr. A, a visual design major, has a piece in the university's current exhibit of work by students nearing graduation.  The piece is titled 'Campaign for the Rights of Heterosexuals'. It consists of works created by Mr. A during the semester, including a stamp for placing sentences questioning homosexuality onto the posters for the school's homosexual students' club and a t-shirt with the phrase "children are created by a male father and a female mother".
More gay penguins becoming adoptive parents, in China.
Mr. Gay Namibia assaulted: "Wendelinus Hamutenya, Mr Gay Namibia title holder, was physically assaulted near his residence in Katutura, Windhoek, in what can be described as a brutal 'mugging' with monetary gain as incentive."
Ryan Seacrest to be part of your morning routine?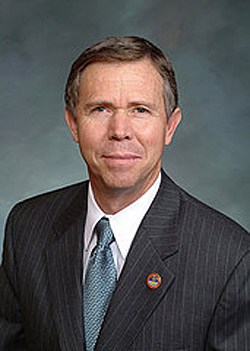 Colorado's most anti-gay state Senator Ken Lundberg, is mulling a run against gay Representative Jared Polis: "Lundberg was the most vocal advocate against the 2011 Colorado Civil Union Act introduced by Sen. Pat Steadman and Rep. Mark Ferrandino. Lundberg led the unsuccessful fight to stop the bill in the Senate."
Janice Dickinson: America's Next Top Model is rigged.
Strong new evidence of ancient water on Mars: "After nearly eight years exploring the surface of Mars with the robot rover Opportunity, scientists announced Wednesday they have found 'the single most powerful piece of evidence' yet that water once flowed abundantly on the Martian surface."
Partner of Turkish man murdered in 'honor killing' to speak to London audience tomorrow: "Apart from giving my statement to the press, I as an individual have absolutely no chance to bring his parents to justice for this murder of their son and my partner."