"People say, well, when are you gonna get your surge?" says Santorum. (Some of the "people" are the reporters in the back of the room; some are the Iowa conservatives who keep doubting him.) "Everybody in this race has had their surge, and their bump. Why haven't you had it? I say, I'm gonna get mine the old fashioned way. Actual people who know the candidates coming on board and helping us. Not some media creation. Not some clever line. But actually folks who are taking their time to look at the records, to look at the vision, to look at the character, to look at the courage."

Santorum has been saying this all year. It stopped sounding ridiculous on Wednesday.

Rasmussen: If the election was tomorrow, Romney would beat Obama like a gong.

More speculation on Hillary as veep.
CNN.com's running a series of coming out stories from LGBT youth.

 Jim Burroway explains why so many racists and homophobes can dig a libertarian.

On harness-training a kitty.

Entrepreneur to rebrand brothel as "Area 51 Travel Center," Nevada's one-stop shop for sci-fi sex:
Hof describes the current state of the bordello as a "disgusting, terrible place" without a single window. The partners are hoping to finish a complete conversion inside of a couple of months, before beaming in customers.

The important details regarding the working women are still being hashed out, such as whether or not to paint the women green to resemble Orion Slave Girl characters from Star Trek.

However Hof tells CBS Las Vegas that for the clients he is reaching out "to everyone, all the Star Wars fans and Trekkies," and cater to all flavors of geek fantasy.

Hof also hopes to collaborate with science fiction icons such as William Shatner – known better to his prospective clients as "Captain Kirk."

China to land astronaut on the moon:
While Chinese scientists have previously discussed the possibility of a manned lunar mission, a government white paper published on Thursday is the first public government document to enshrine it as a policy goal.
China will "conduct studies on the preliminary plan for a human lunar landing", the white paper said.

Although a manned moon mission is still some time off – Chinese experts say after 2020 – the statement highlights Beijing's soaring ambitions just five months after the US retired its space shuttle programme . "Chinese people are the same as people around the world," Zhang Wei, an official with China's National Space Administration, said at a briefing. "When looking up at the starry sky, we are full of longing and yearning for the vast universe."

Salon wonders: "Does gay sex cause incontinence?"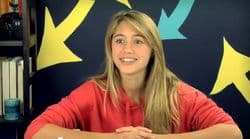 Reddit wonders: Did North Korea Photoshop a giant into pics of Kim Jong-il's funeral?

The Teens from Teens React wonder: What the hell is Rick Perry's "Strong" ad all about? Watch them discuss it AFTER THE JUMP …