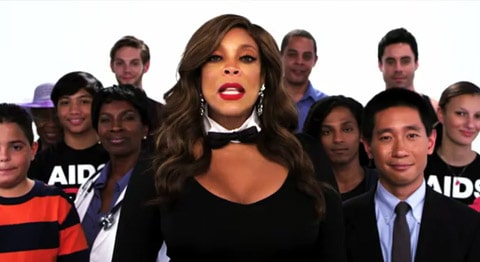 A new World AIDS Day PSA from the National Minority AIDS Council and Gilead Sciences Inc. features Wendy Williams discussing HIV testing and prevention.
Watch it, AFTER THE JUMP…
In other news, AIDS activists associated with the AIDS Healthcare Foundation protested yesterday outside the Foster City headquarters of Gilead Sciences this week to protest the company's pricing of its HIV/AIDS medications and staged a mock funeral in memory of those who have died of AIDS while on AIDS Drug Assistance Program (ADAP) waitlists.
They write, in a press release:
In the spirit of the "Occupy" movement, protestors hope to call attention to the severe AIDS drug crisis facing the nation's ADAPs—a network of federal and state funded programs that provide life-saving HIV treatments to low income, uninsured, and underinsured individuals living with HIV/AIDS nationwide—as well as to the fact that Gilead Sciences' executives are a part of the "1 percent".  The advocates' goal is to raise public awareness and educate community members—including Gilead employees—regarding the steep prices that government programs are paying for Gilead's blockbuster HIV/AIDS drug, Atripla (efavirenz & tenofovir & emtricitabine)—currently $10,000 per patient, per year for ADAP.
As of November 17th, there are 6,595 people on waiting lists in twelve states, according to ADAP Watch, published regularly by the National Alliance of State and Territorial AIDS Directors (NASTAD). The total number of people on that have either been dropped from the program, been place on a waiting list or are unable to enroll due to lowered eligibility is at least 7,415.
Watch one of the group's recent 'Die-Ins' at the U.S. Conference on AIDS earlier this month, AFTER THE JUMP…