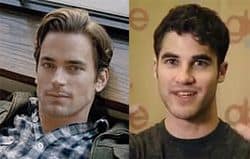 Michael Ausiello at TV Line reports that Matt Bomer has been cast in Glee, as Blaine's older brother:
This is big for a number of reasons. Among them:
 Since this will be the first time we meet any of the other Andersons, we might finally learn a bit about Blaine's apparently gorgeous kin. This will also be the first time a lot of people will get to hear Bomer sing — because yes, natch, his character will get in on his sib's musical number.
Apparently Bomer can sing. TV Line has a clip from the 2010 Kennedy Center Honors.
In related news, here's the full preview clip from the upcoming Glee Michael Jackson episode, in which Criss sings "Wanna Be Startin Somethin'".
Watch, AFTER THE JUMP…