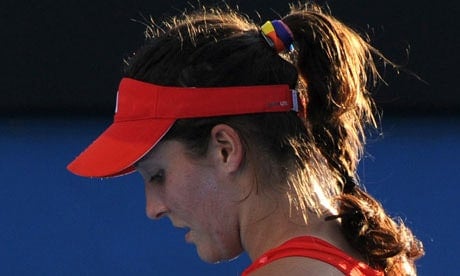 The Australian Open is expecting protests this week over remarks made by Grand Slam winning former tennis pro Margaret Court about gays, but officials there weren't expecting that one of the players would  (intentionally or not) make the first move.
Robson, 18 next Saturday, was one of five British players who lost on the first day of the tournament but her trickiest assignment was fielding questions afterwards about her hairband. She claimed not to be making a political statement, and said she was unaware of a call by gay rights activists to take rainbow-coloured flags into the Margaret Court Arena. "It was just a rainbow-coloured hairband," Robson said. "I didn't see anything about a protest today. I wore it because I believe in equal rights for everyone. That's it."
She did, however, know of the recent comments Court had made, which were reported here and internationally because of her standing in the game. Her stand will be seen in a favourable light by those critics of Court astounded by her insensitivity on a subject that is regularly an issue in women's tennis.
"I did [know about the comments]," Robson said, "but it was through newspapers and things. I never saw a direct quote from her. So I don't want to comment when I actually haven't spoken to her. I believe in equal rights for everyone – that is why I wore it."
Tennis Australia last week distanced itself from Court's remarks. Court has said plans for a protest of her presence won't keep her away.