NYC gay bar icon Julius was closed by the city's Department of Health late last week, the NYT reports, giving the paper an opportunity to look at the bar's history: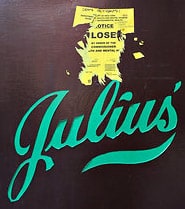 Julius' makes a strong claim to be one of the longest-running gay bars in the city, if not the oldest, and it is housed in an 1826 building at the corner of West 10th Street and Waverly Place. It remained closed Tuesday, but Helen Buford, the owner, said she hoped to re-open after another inspection on Wednesday or later in the week…
…Julius' has never been known for hygiene — it was known as Dirty Julius' for its blackened ceiling in the years after Prohibition — and was shut down two years ago by the health department. The inspection last week found mouse droppings and an infestation of cockroaches.
Ms. Buford did not argue that there were problems that needed to be fixed, and said the bar had multiple exterminations over the weekend. But the timing was unfair, she said. "Friday afternoon before a holiday," she said, meaning she could not get reinspected or reopened until after the weekend, which included New Year's Eve.
Julius was closed one other time in recent memory – in 2007, for non-payment of taxes.