U.S. Marines seen urinating on Taliban corpses in online video.

NYT asks readers whether it should say if assertions made by candidates are true or not.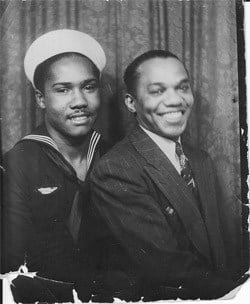 140 years of Black male couples.

Sinead O'Connor attempted suicide last week?

Palm Beach police entrap more than 600 men in sex stings in public park: "Only a handful of the arrests – four to be exact — were between two men; the rest of them involved an undercover detective soliciting another man for sex using tactics that one lawyer called "disgusting" while another lawyer questioned the legality of the detectives' behavior."

Just a few weeks left for LGBT students to apply for Point Foundation Scholarships.

Illinois lawmakers seek to move forward on marriage equality: "State representatives Greg Harris, Deb Mell, Ann Williams, Kelly Cassidy, Sara Feigenholtz and Senator Heather Steans are in talks with Illinois organizations about introducing a bill that would allow same-sex partners to marry in Illinois. According to Harris, the bill will not likely be introduced until at least 2013. Harris believes the fight will be difficult, especially as anti-gay political candidates work to bolster support for upcoming presidential elections."

Brad Pitt and Angelina Jolie go to the White House.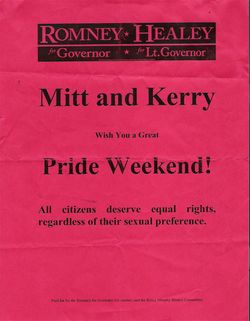 Former Mitt Romney intern took credit for 2002 Gay Pride flyer (via Sam Stein).

Gary Bauer reverses public support for same-sex marriage in FOX News lie: "During an interview on Fox & Friends, Gary Bauer, president of conservative group American Values, claimed that the "overwhelming majority of the American people think that marriage is between a man and a woman." In fact, multiple polls conducted in 2011 show that a majority of Americans favor legalizing gay marriage."

Inside Madonna's Graham Norton taping.

Joe Manganiello on his sex symbol status: "I spent my entire career in my 20s with nobody wanting me to take my shirt off. Seems like I turned 30 and everything kind of flip-flopped."

Gavin Rossdale has been showing off on the tennis court again, shirtless.

Ashton Kutcher cleans up.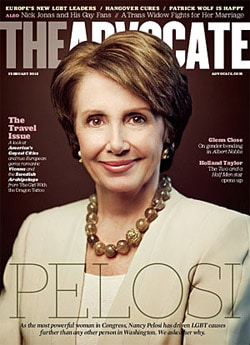 Nancy Pelosi on gay Republican taunting of Barney Frank: "Oh, but what about them?" she snaps. "He chooses a party that supports his values. They've chosen a party that supports their income — a party that denigrates them and treats them with disrespect."

Vietnamese film helping change attitudes toward gays? "Curious filmgoers have streamed into cinemas to catch "Lost in Paradise", which chronicles the doomed love affair between a gay prostitute and a book seller and provides a rare glimpse into a usually hidden side of Vietnam. For some, the movie was eye-opening, with one Vietnamese woman saying the bittersweet love story had changed her views about homosexuality. 'Now I think they are just like us,' said the 50-year-old state employee, who did not want to give her name, after watching the film in the capital."

Spain plans LGBT retirement home.

Brazilian loggers said to burn tribal Amazon girl alive: "The child was said to have wandered away from her village, where around 60 members of the Awá tribe live a primitive life in complete isolation from the modern world, and fallen into the hands of the loggers. Luis Carlos Guajajaras, a local leader from a separate tribe, told a Brazilian news website that they tied to her a tree and set her alight as a warning to other natives, who live in a protected reserve in the north-eastern state of Maranhão ."