NC LGBT advocates mobilize to defeat same-sex marriage amendment.

NC Governor's decision to not seek reelection seen as influencing amendment vote.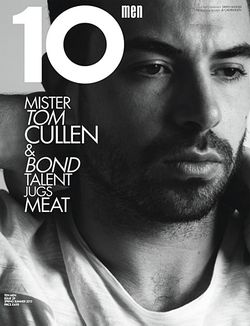 Weekend's Tom Cullen is the cover star of 10 Men magazine.

Fran Drescher says she was abducted by aliens.

If you missed the SAG Awards, you might want to check out Nathaniel Rogers' liveblog for the highlights.

Michelangelo's insane interview with North Carolina pastor Patrick Wooden, who supports efforts to pass an anti-gay amendment there.

Gingrich and Romney want to get rid of bilingual ballots: "Yet their glib demand for English-only ballots would require amending the Voting Rights Act and doing away with hard-won legal requirements that have existed for decades. It's a sharp turn away from the Bush administration, which despite a spotty civil rights record filed more ballot access cases on behalf of non-English speakers than any administration had before."

Henry Cavill finds a crowd waiting for him outside the Chateau Marmont.

Does ketamine offer almost immediate relief from depression?

Statue to be erected in Houston in honor of Beyoncé.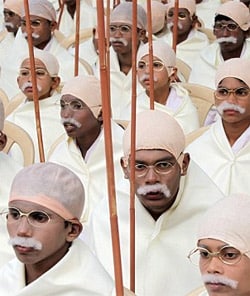 500 boys break record for dressing like Gandhi.

VIDEO Romney ignores DREAM Act hecklers in Miami.

Gay monk blackmailed in Vietnam's Mekong Delta: "Police in the Mekong Delta province of Tien Giang said Saturday they had arrested a gay man who blackmailed the chief monk of a local pagoda with a film of having sex with the former, online newspaper Dan Tri reported…They said that on December 28, 2011, Hoa filmed the act of having sex with the monk. He then asked the monk to give him VND200 million, failing which he would expose their relationship."

Matt Rettenmund on meeting Madonna.

Are Texas hate crime laws ineffective? "Each year for the past decade, local law enforcement agencies have reported about 200 crimes that police said were motivated by the perpetrator's animosity toward the victim's race, ethnicity or sexual orientation, among other identifiers , according to the Texas Department of Public Safety, which collects statewide data. Yet since 2001, when the Texas Legislature adopted its current hate crime statute, prosecutors have earned convictions on 10 cases — less than one a year statewide, according to figures kept by the state Office of Court Administration."

Male model fix: Philippe Leblond Brisson.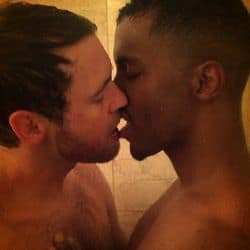 Back in August I posted some steamy shots from a new drama being developed by Larry Kennar, Executive Producer of The L Word, about a group of friends in downtown L.A.. The project now has a Kickstarter page.

NY Assemblyman Daniel O'Donnell marries longtime partner John Banta: "Dressed in charcoal suits and dark ties, O'Donnell, the prime Assembly sponsor of New York's gay marriage law, and Banta were married by Judith Kaye, the former chief justice of the state Court of Appeals, New York's top court. About 400 people are said to have  attended…"

San Diego's mayoral contest includes three Republicans, two of whom are gay: "Another reason it isn't an issue is that each of the four major candidates, which also includes Democratic Rep. Bob Filner and Republican state Assemblyman Nathan Fletcher, are considered gay-friendly. Each says they support same-sex marriage, a key issue for most gays, leaving the community to make their decision based on other criteria. None of the candidates can lay claim to being the gay community's preferred choice."