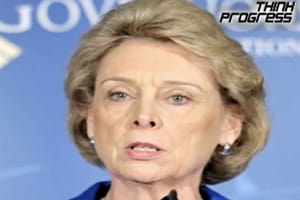 Washington Governor Chris Gregoire, who will be signing Washington's marriage equality bill on Monday, discusses the response she has received and a potential voter referendum on the measure, Think Progress reports.
She also says she'll lobby New Jersey Governor Chris Christie, who has said he plans to veto a similar measure in his state.
Said Gregoire: "I have worked with him on a number of issues, so yea, I would feel very comfortable sharing with him, my personal journey the overwhelming response that I've received and how good I feel about myself today and I have not felt good about this issue and about where I stood for a number of years."
Watch, AFTER THE JUMP…