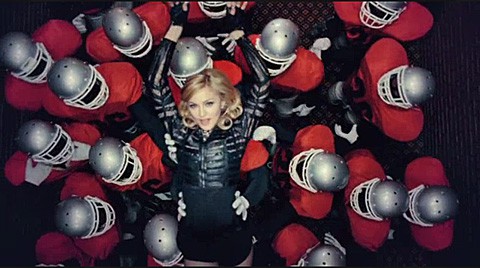 Madonna's new video clip, "Give Me All Your Luvin" featuring MIA and Nicki Minaj is here.
Watch it, AFTER THE JUMP…
The video was directed by Megaforce. Raphaël Rodriguez and Clement Gallet, one half of Megaforce, spoke to MTV about the video:
Rodriguez said their first meeting with producer Martin Solveig was "interesting" and that it quickly became clear that the video should be "about happiness and something really sunny."
Not only did the vibe of the track dictate how the video would look and feel, but so did the fact that Nicki Minaj and M.I.A. appear on the song alongside Madge. "We said, 'Wow, it's quite interesting that it's a mix between these three artists.' They are not a part of the same universe for us," Rodriguez continued. "So it was interesting to hear this mix and different kind of music."
Watch "Give Me All Your Luvin, AFTER THE JUMP…