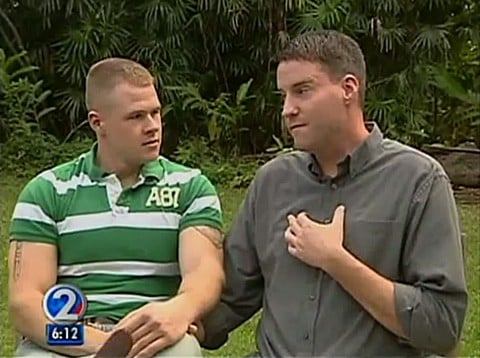 Brandon Morgan and Dalan Wells, the couple in the Marine homecoming photo that went viral over the weekend speak to Honolulu news station KHON.
Says Brandon: "This is a homecoming picture. Gay, straight, it doesn't matter who you are. Love is love. We haven't fought for more rights or better rights than others. We fought for equal rights. And now we have them."
More on the KHON website. The couple says it was their first kiss!
There to meet him was his friend of four years, Windward Oahu artist Dalan Wells — a friendship that had turned to a long-distance love during the deployment. This was their first kiss.
"We couldn't talk, I can barely talk now, his hands went numb, my legs were shaking, our first kiss after just knowing how we felt about each other," Morgan said.
The arrival had come unexpectedly early. Wells made it to the base ahead of other invited friends.
"I'm so glad I got him a lei, I almost didn't have time," Wells said. "I stopped at a Safeway, grabbed him just a carnation and pikake lei. One friend finally did make it, Dave Lewis and he's the one who took the photo there. He was able to get to the hangar just in time, because we were too happy to be able to take picture."
Watch, AFTER THE JUMP…