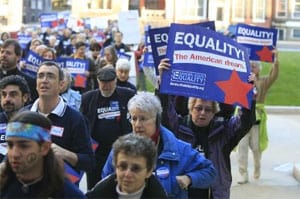 Marriage equality has passed the New Jersey Assembly in a 42-33 vote. The bill passed the Senate last week.
Governor Chris Christie has vowed to take "swift action" to veto the bill.
The Star-Ledger reports:
Assemblyman Reed Gusciara (sic) (D-Mercer) said in a news release after the vote that "this is probably one of the highlights of my legislative tenure – no matter what the ultimate outcome may be."
"For those who oppose this measure, I realize that this is a difficult decision to make," Gusciora said. "It is a question that tests the fundamental protections of liberty founded in our federal and state constitutions."
Assemblyman Jay Webber ( R-Morris ), who voted against the measure, said on the floor that gays should not have the ability to have " their desires redefine marriage for everyone else. "'
"The bill is about redefining an important institution of civil society and that should give us all great pause," he said.
A two-thirds vote in each chamber is necessary to override Christie's veto, and can be attempted as many times as necessary until January 2014. A veto override would require 13 more votes.
An early vote counted the vote as 41-33. Freedom to Marry tweets: "UPDATE: One yes Assembly member had a broken button during #NJ4M Assembly vote. Actual vote count was 42-33!"
Developing…