Adele will record new album, won't take five year break.

If Obama signs an executive order banning LGBT discrimination, it looks as though it will be in good hands: "Patricia Shiu heads the Labor Department's Office of Federal Contract Compliance Programs (OFCCP), which enforces contractual promises of equal employment opportunity for companies doing business with the federal government."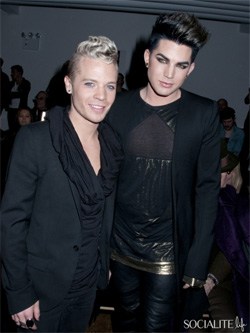 Lambert and Koskinen: In the NY Fashion Week hair wars, nobody else stands a chance.

Fashion icon collapses, dies at NYC show.

Indian Supreme Court hears appeals on decriminalization of gay sex: "Homosexuality should be seen in the context of changing society as many things which were earlier unacceptable have become acceptable with passage of time, the Supreme Court observed on Thursday."

Ultimate Dog Tease to be a movie.

J Lo tweets photo of herself nuzzling boytoy Casper Smart's bicep, deletes it.

First GSA meets on military base: "A group of about 75 people made history Feb. 13 at the Great Lakes Naval Station, north of Chicago. It was the first public meeting of Gay, Lesbian and Supporting Sailors ( GLASS ) , believed to be the first non-academy, general base-sanctioned gay support group on any U.S. base in the world. The Coast Guard can boast of having the first gay-straight alliance at a service academy, and such academies are located on a base."

Robyn Crawford, Whitney Houston's rumored lover, speaks to Esquire.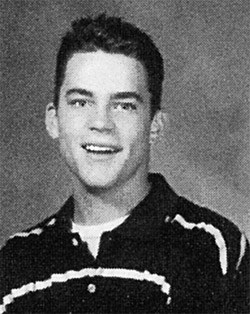 Matt Bomer's sophomore high school yearbook photo.

Kotaku salutes transgender video gaming pioneer Dani Bunten.

FDA on the brink of approving genetically engineered salmon for human consumption: "This would be the first genetically engineered animal on supermarket shelves in the United States. The salmon is engineered to produce growth hormones year-round that cause the fish to grow at twice the normal rate."

High school football player in rural America talks about being gay.

Chinese survey shows acceptance of homosexuality among youth: "More than 80 percent of Chinese people born after the 1980s hold no discriminatory beliefs regarding homosexuality, according to a survey on marriage perspectives conducted by jiayuan.com, a major Chinese dating website. The survey results, which were published in the Monday edition of the Beijing News, indicate that 83 percent of respondents born between 1980 and 1989, as well as 82 percent of those born after 1990, do not disapprove of homosexuality."

NPH and David Burtka have a Valentine's Day dinner, tweet entire 9-course meal.

Panda LiveCam.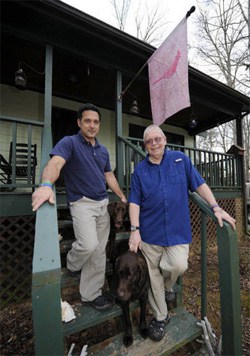 Music director's marriage gets him fired: "On Jan. 19, just back from a honeymoon trip to Mexico, followed by an emergency stay at Carolinas Medical Center for a ruptured appendix, he checked out of the hospital and dropped by St. Gabriel. There, he was handed a note by the Rev. Frank O'Rourke, the pastor with whom he had closely worked for more than four years. It read: 'Employees of St. Gabriel … are expected to live within the moral tradition of the Church…Your civil marriage stands in direct opposition to the teaching of the Catholic Church, therefore ending your employment with us, effective today.."

Victoria Jackson talks gay marriage, Communism, Obama…

FOX News commentator Dr. Keith Ablow: Media Matters founder David Brock is dangerous because he was adopted: "This is an adopted boy who needs to plumb the depths of his psyche. He was adopted. Many adopted children are tremendously well-adjusted, but for some reason, this man feels he's unloved and unloveable, shunted to the side, and that's the antidote he feels: unlimited power."