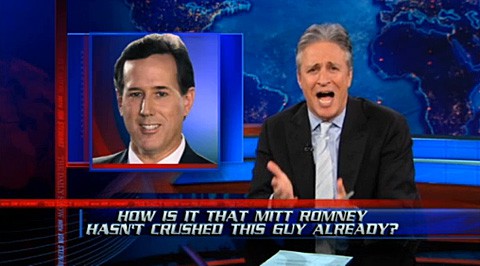 Jon Stewart looks at Rick Santorum's statements over the weekend attacking higher education, and his urge to "throw up" over JFK's speech about separation of church and state:
"Rick, I'm sorry that hearing that JFK speech on religion makes you throw up. But if it makes you feel any better, if JFK were alive today, knowing you were running for President would make him sh*t his pants."
Stewart also mocks Romney's love of cars and "sport": "Is there anything that comes out of this guy's mouth that couldn't come out of Thurston Howell III's mouth?"
Watch, AFTER THE JUMP…