Trevor Thomas, the former Communications Director for Servicemembers Legal Defense Network who also worked for a short time at Media Matters, announced today that he is running for Congress from Michigan.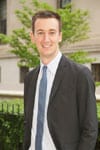 Thomas is challenging Rep Justin Amash, a Tea Party Republican from his hometown in Michigan's 3rd District. Writes Thomas:
It's time for us to return to the values of Jerry Ford, who put politics aside to do what was best for our country. My parents' generation helped put the world on wheels and furniture in our living rooms. Now it is our time to stand up and fight for Michigan families to ensure they get a fair shake. This is a campaign for us all.
Thomas recorded a video to launch his campaign, in which he drives through his hometown.
Watch it, AFTER THE JUMP…