This morning, advocates, community organizers, doctors and medical students, elected officials, and interested members of the public will join Obama Administration officials in Philadelphia for an important conversation on the health needs of lesbian, gay, bisexual, and transgender (LGBT) people, according to LGBT White House liaison Gautam Raghavan.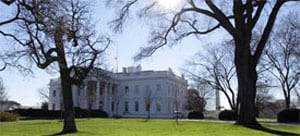 Watch the event LIVE (begins at 9 am EST), AFTER THE JUMP…
The White House LGBT Conference on Health is hosted by the White House Office of Public Engagement in partnership with the U.S. Department of Health & Human Services and Mazzoni Center. This event is the first in a series of White House LGBT Conferences that will be held across the country to empower grassroots leaders, community organizers, advocates, and interested citizens by connecting them with Federal government information, resources, and opportunities.
The conference will begin with a morning plenary featuring remarks by Secretary of Health & Human Services (HHS) Kathleen Sebelius, Director of the Office of Personnel Management (OPM) John Berry, Philadelphia Mayor Michael Nutter and Obama administration officials.
Watch the event LIVE, AFTER THE JUMP…
Session is scheduled to begin at 9 am and end at 11:45 am.