Servicemembers Legal Defense Network celebrates 20th anniversary at D.C. gala.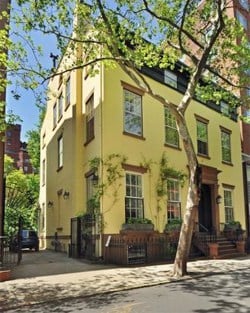 Truman Capote's Brooklyn Heights townhouse sells for $12 million: "After almost two years on the market, the yellow mansion where Capote wrote "Breakfast at Tiffany's" has reportedly fetched the highest price for a single-family home in borough history…The 18-room home boasts 11 fireplaces, parking for four cars, crystal chandeliers, Greek Revival columns, and a stairwell mural copied from the Kennedy White House. It was originally listed at $18 million in May 2010."

VIDEO: Bitch plays piano and sings.

Michelangelo Signorile and MetroWeekly's Chris Geidner sound off on the choice of Chad Griffin to head the Human Rights Campaign.

Was President Buchanan gay?

ABC News looks at the upcoming Lavender Scare documentary about the anti-gay witch hunts in the 1950's. I posted about it last July. Check out the trailer here.

Report: Brahim Zaibat asks Madonna to marry him.

Norman Reedus stretches out for Flaunt.

Miami-Dade Transit not happy that gay adult films are being shot on their buses. "We counted about three different buses used. On one of them, what looked like a bill of sale was evident on a window. And at least one film clearly showed the bus picking up a hunk at a 73 bus stop, which travels from Dadeland South Metrorail Station to Northwest 186 Street in Miami Lakes."

Prince Harry hits Belize.

UN panel to address LGBT discrimination: "The panellists leading the discussion include Irina Karla Bacci, vice-president National Council for LGBT Persons in Brazil; Laurence Helfer, co-director, Center for International and Comparative Law at Duke University in the US; Hina Jilani, chair, Human Rights Commission of Pakistan and Hans Ytterberg, chair of the Council of Europe Expert Committee on Discrimination on Grounds of Sexual Orientation and Gender Identity."

Male model fix: Jean Poirier.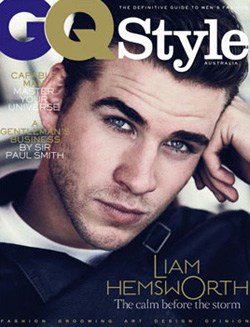 Liam Hemsworth broods for GQ Style.

Bakery owners find possum stuffed with pastries.

Ohio State head football coach Urban Meyer apologizes to LGBT group for using lavender jerseys to punish lazy athletes. "Thank you for sharing your concerns regarding the purple mesh pullovers. The use if purple was never intended to offend anyone but since it has, we have taken steps to change the color."

Boston's Fenway Health Clinic honors Barney Frank.

Freddie Ljungberg to join UK's Celebrity Big Brother.

George W. Bush impersonator dies: "Steve Bridges, 48, a comic actor and impersonator who was best known for his mimicry of President George W. Bush and appeared alongside the chief executive at the 2006 White House Correspondents' Assn. dinner, was found dead Saturday at his home in Los Angeles. Bridges had recently returned home from China, where he had been performing, said his brother Phillip. He appeared to have died of natural causes. VIDEO.