Omaha Nebraska's City Council passed a bill protecting its LGBT residents, allowing them to "file complaints with Omaha's Human Rights and Relations Department if they were fired over their orientation, suffered other workplace discrimination or were refused services at restaurants, hotels or other places that serve the public," the World-Herald reports: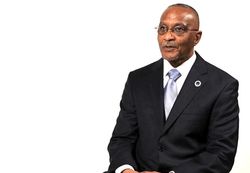 Passed on a 4-3 vote, the council ended weeks of scrutiny and intense lobbying that exposed fractures within the city's business and religious communities. The Greater Omaha Chamber of Commerce decided to remain neutral on the issue, citing a split in its membership.
Garry Gernandt, the South Omaha council member who voted against a similar proposal in 2010, cast a surprise swing vote in favor of the ordinance.
"We are all part of the human race," he said.
Also voting in favor were sponsor Ben Gray (pictured), Pete Festersen and Chris Jerram.
Franklin Thompson, the councilman who scuttled a similar proposal in 2010 by refusing to break a 3-3 tie, voted against the proposal Tuesday. Also voting no were council members Jean Stothert and Tom Mulligan. Thompson's vote came after a poll commissioned by gay rights activists said 61 percent of voters in his west-central District 6 favored the proposed changes, while 29 percent opposed them.
Omaha Mayor Jim Suttle praised the vote: "I applaud the City Council for their actions today and I look forward to signing this ordinance into law.I want to thank Councilman Ben Gray for his dedication and leadership in bringing this action forward, not once but twice, and for working with community leaders and his colleagues on the council to find consensus for a final ordinance."