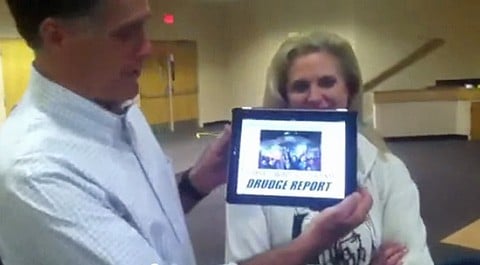 Mitt Romney gives a plug to his cheerleader Matt Drudge in a video from Puerto Rico, which he swept.
Watch, AFTER THE JUMP…
Reuters reports:
With about 60 percent of the ballots counted, Romney had about 83 percent of the vote, according to Puerto Rico's electoral commission. Rick Santorum was in second place with just under 8 percent.
With Puerto Rico's Republican Electoral Commissioner Jose Enrique Melendez declaring Romney's victory official on Sunday night, he was poised to sweep all 20 delegates.
Daily Kos laughs at the antics of both Mitt and Santorum in PR, here.