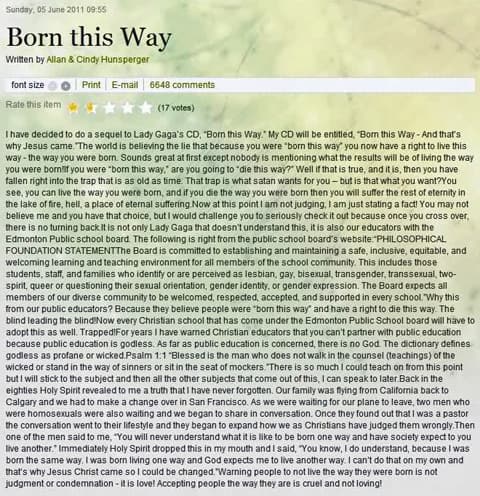 Alberta, Canada's conservative Wildrose party is under fire after comments written by Allan Hunsperger, a pastor who's running as a candidate there, warned LGBT people that they will "suffer the rest of eternity in the lake of fire, hell, a place of eternal suffering."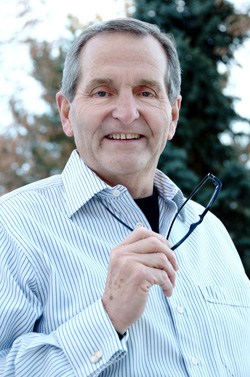 Added Hunsperger, in remarks responding to Gaga's "Born This Way" CD: "Accepting people the way they are is cruel and not loving."
You can read the comments above, or here.
Progressive Conservative Party Leader and Premier Alison Redford reacted immediately to the comments, the Star reports:
With only one week left before the election, Redford wasted no time joining in the condemnation of the comments that quickly spread to social media.
"The fact that there are people who think that's a legitimate perspective just absolutely blows my mind," Redford told reporters at a Calgary campaign stop. I think they're shocking and I think it goes back to Albertans are about to decide who is going to govern their province. They are going to have to decide who their premier is. They're going to have to decide who the cabinet is," she added. "If we have people like this making these sorts of comments in Alberta I think it's absolutely wrong and of course I disagree with it."
Alberta Wildrose Party leader Danielle Smith refused to condemn Hunsperger:
Asked about the writing, Smith noted the party won't legislate on such social issues but said Hunsperger was free to hold his personal views.
"When a person is making personal statements in their capacity as a pastor, which he was, I don't think anybody should be surprised that they're expressing certain viewpoints," she said outside a Wildrose photo opportunity at the Calgary Hindu Society's temple.
"It was a year ago when he was talking in his capacity as a pastor. He now understands, we've spoken, we've communicated on this, that we will not be legislating on contentious social issues. He understands that. He accepts that."
Hunsperger responded: "The views I expressed in this blog posting are my own personal religious views and were given in the capacity as a church pastor. I fully support equality for all people, and condemn any intolerance based on sexual orientation or any other personal characteristic."