Brian Sims has won his primary in Pennsylvania and will be the state's first openly gay lawmaker, facing no Republican opposition in a heavily Democratic district.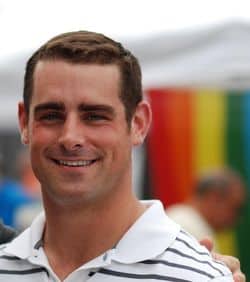 The Victory Fund reports:
Sims defeated a longtime incumbent to capture the Democratic nomination in the heavily Democratic District 182, and will face no Republican opponent this November.
"Tonight we're celebrating a historic victory for Pennsylvania and for Brian," said Chuck Wolfe, president and CEO of the Victory Fund, which endorsed Sims.  "LGBT Pennsylvanians will finally have a voice in their state legislature, and what a strong and unyielding voice it will be.  We are thrilled for Brian, who ran a remarkable campaign."
Sims, a former member of the Victory Campaign Board, is a distinguished policy attorney and civil rights advocate from Center City Philadelphia. The former Staff Counsel for Policy and Planning at the Philadelphia Bar Association, he recently stepped down as the President of the Board of Directors of Equality Pennsylvania.
In Spring 2009, Outsports first made us aware of Sims in a story they published about Sims coming out to his football team and subsequently leading them to a Division II National Championship game. He is still the only former NCAA football captain to have ever come out.
Congrats Brian!