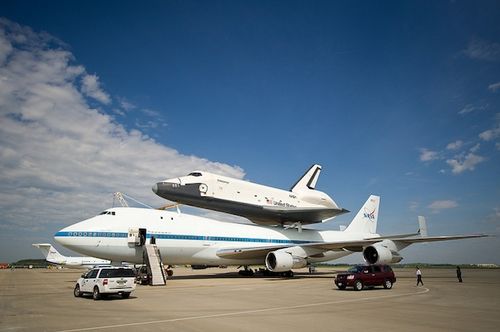 Space Shuttle Enterprise, which served as a test shuttle and never made it to space, is set to arrive in NYC today, City Room reports:
Friday morning, weather permitting, New Yorkers will see just such a configuration rumbling by the Statue of Liberty and up the Hudson River to the Tappan Zee Bridge and back. That's the low-altitude loop the National Aeronautics and Space Administration plans to make as it delivers Enterprise, the prototype for the space shuttles, to Kennedy International Airport.
Enterprise, which is ultimately bound for the Intrepid Sea, Air and Space Museum in Manhattan this summer, will ride on top of a specially equipped 747 jet from Dulles Airport near Washington. It is scheduled to fly over the city between 9:30 a.m. and 11:30 a.m.
Several weeks following the arrival, Enterprise will be "demated" from the 747 and placed on a barge that will be moved by tugboat up the Hudson River to the Intrepid Sea, Air and Space Museum in June. The shuttle will be lifted by crane and placed on the flight deck of the Intrepid where it will be on exhibit to the public starting this summer in a temporary climate-controlled pavilion. The Intrepid continues work on a permanent exhibit facility to showcase Enterprise that will enhance the museum's space-related exhibits and education curriculum.
Watch a very cool video from 1977 of Enterprise's first test flight, AFTER THE JUMP…