Is NOM venturing into libelous woods?

NYT blasts Obama LGBT non-discrimination snub: "His hesitation to ban gay bias by government contractors, like his continued failure to actually endorse the freedom to marry, feels like a cynical hedge. It's hard to see the political sense in it, and it is certainly unhelpful to the cause of full gay equality under the law."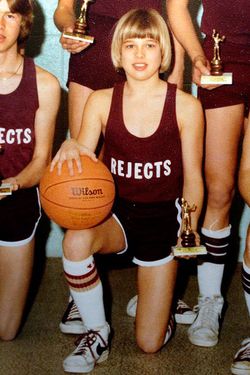 Brad Pitt, high school Reject.

Wikileaks founder Julian Assange's talk show to start: "WikiLeaks founder Julian Assange has finished shooting 12 episodes of his TV talk show, which will be called The World Tomorrow and is set to debut next week on Russia's RT news network, formerly known as Russia Today, and online, the organization said Friday."

Azealia Banks: "'212' is arrogant, and fashion is arrogant. Selling beauty means convincing people that you have something they want."

Breath a sigh of relief, our solar system is normal: "The suggestion that other solar systems have similar numbers of planets to our own fits with growing evidence that ours is not as freakish as earlier evidence suggested."

A street in San Diego's hillcrest neighborhood may soon be named after Harvey Milk, making it the first street in the country to be named for the gay civil rights hero: "'Not only does the street run into the LBGT center, this is where the pride parade begins, where the community gathers, where there's a new pride pole project being proposed,' San Diego Pride Executive Director Dwayne Crenshaw said. If the street name changes, the 17 properties on the street will have to change mailing addresses and local maps will have to be edited for visitors."

In light of this year's cinematic Snow White fever, Nathaniel Rogers looks back at the original.

Jean Paul Gaultier designs costumes for Madonna's MDNA world tour.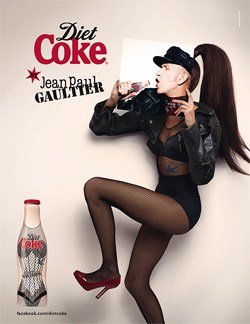 And, Gaultier drags up Diet Coke…

Phillipe Starck says he's working on  "revolutionary" new product that will be unveiled in the next 8 month for Apple. Apple says it isn't working with him.

Millions against Monsanto. "This November, in a food fight that will largely determine the future of what we eat and what we grow, Monsanto will face its greatest challenge to date: a statewide citizens' ballot initiative that will give Californians the opportunity to vote for their right to know whether the food they buy is contaminated with GMOs."

Atlanta Falcons wide receiver Roddy White tweets that he doesn't want to be gay and isn't really sorry for tweeting about it.

Gay adults rejected by their parents have worse health: "For example, gay and bisexual men who felt rejected by their parents had a six to seven times increased risk of binge drinking and serious depression, while lesbian and bisexual women whose parents did not support them had a fivefold increased risk of serious depression and an 11-fold increased risk of illicit drug use."

John Mellencamp orders Wisconsin Governor Scott Walker to stop using his music.

Francis Bean Cobain: "Twitter should ban my mother."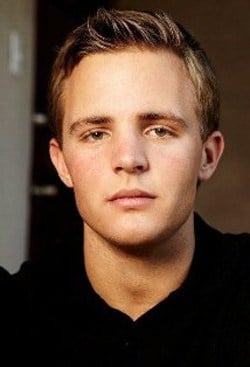 James Duke Mason's Trailblazer campaign one year later.

Seattle archdiocese pushes Catholics to help overturn marriage equality: "This is an issue campaign. It is not a candidate campaign so we are allowed to participate in issue campaigns, especially when they have a strong moral dimension like this one does. In our opinion, the redefinition of marriage is a far-reaching decision and it should be placed on the ballot for the voters to decide."

AFA's Bryan Fischer: "Liiberals in America are killing America's women before they are ever born."

An oral history of gay punk.

Pro-LGBT religious voices underrepresented in national media, says GLAAD: "The research, a three year study of 316 news stories about LGBT issues, using 1,387 different religious sources on national television and print news media, shows a disproportionate reliance on anti-LGBT religious voices commenting on LGBT people and issues. Three out of four religious messages came from people whose religions have formal policies opposing LGBT equality, despite the fact that acceptance of LGBT people is growing across faith traditions."