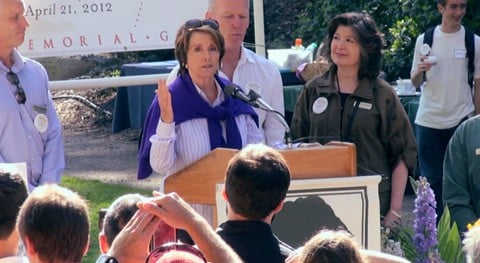 On Saturday, Congresswoman Nancy Pelosi was honored at the AIDS Memorial Grove in Golden Gate Park as a national champion in the fight against the AIDS epidemic, CBS San Francisco reports. Pelosi also this month celebrates 25 years since she first ran for Congress.
A new section of the grove has been named the Nancy Pelosi Leadership Pathway. Pelosi offered moving words on the discovery of AIDS, the community's reaction to the crisis, the discrimination, and the opportunities she's had to help fight that.
Said Pelosi: "I can't think of anything that surpasses having my name associated with this grove and each and every one of you for what you do."
Videographer Sean Chapin created a touching clip of the ceremony which captures the beautyof the gardens and the ceremony.
Watch, AFTER THE JUMP…