Rep. Allen West (R-FL) spoke to a group of Florida voters last night and said he thinks that 80 Democratic congressmen belong to the Communist Party: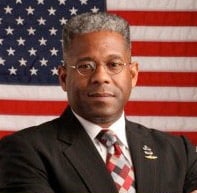 Later Tuesday evening, a Jensen Beach crowd of 100 with more than 15 protesters greeted the congressman with mixed support, cheers and jeers.
The conservative tea party icon also got in shots at Democrats and President Obama, who spoke Tuesday at Florida Atlantic University. West said Obama was "scared" to have a discussion with him. He later said "he's heard" up to 80 U.S. House Democrats are Communist Party members, but wouldn't name names.
West was recently reported to be on a short list for Romney's running mate.
UPDATE: Video, AFTER THE JUMP…