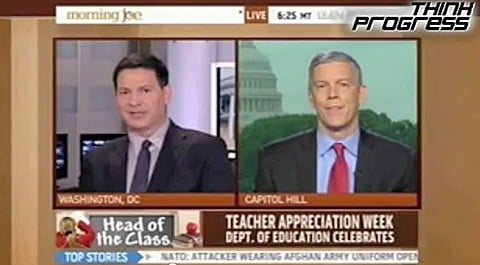 A short time ago on Morning Joe, Mark Halperin tested out an idea he has for all administration officials following Biden's remarks over the weekend, and Education Secretary Arne Duncan was the first to face the Morning Joe crew.
Said Halperin: "Just a little icebreaker, Mr. Secretary, we're going to go throught the whole cabinet. Do you believe that same-sex men and women should be able to get legally married in the United States?"
Duncan: "Yes I do."
Halperin: "Have you ever said that publicly before?"
Duncan: "I don't know that I've ever been asked publicly."
Watch, AFTER THE JUMP…
(clip via Think Progress)