Beastie Boy Adam Yauch dead at 47.

Group to protest outside Pastor Sean "beat your gay kids" Harris' church on Sunday.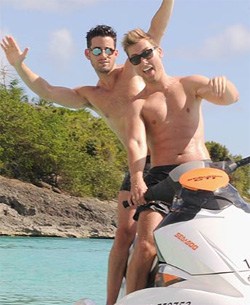 Lance Bass is good to his friends in St. Martin.

Obviously he did not have a peanut allergy.

AP: LGBT rights groups keep pressure on Obama. "Obama's campaign, aware of the discontent, trumpets the president's role in repealing "don't ask, don't tell' so gays can serve openly in the military and his decision to stop defending the Defense of Marriage Act, which denies federal recognition to same-sex couples."

More loincloth: Kellan Lutz has been cast as stop-motion Tarzan.

Michelangelo Signorile's interview with Pastor Sean 'beat the gay out of your kids' Harris. "In trying to explain why he used violence to convey his message even though he is now retracting the statements, Harris said: 'In the context of the scripture, Mark, chapter 9, Jesus conjures up violent images as well, when he says, 'If your hand is causing you to sin, cut it off.' He's not speaking literally. He's speaking figuratively, using hyperbole to convey the importance of the offense.'"

Justin Bieber's new video "Boyfriend".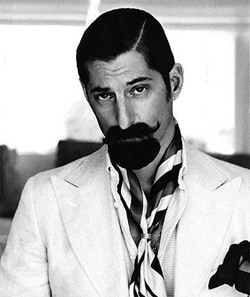 Tony Ward lets his facial hair run wild for GQ Spain.

Ugandan gay activist Frank Mugisha speaks at Georgetown University. "If I'm doing something that's not hurting someone, then it is my right to do it. If I'm doing something that is hurting someone, then maybe that's when we need to draw the line and bring in the rule of law. My sexual orientation does not hurt anyone."

Court grants lesbian mom in Colorado right to file for paternity.

Clooney-Obama fundraiser to break records: "President Barack Obama's dinner with George Clooney has officially sold out, and campaign sources are telling The Hollywood Reporter that the event is expected to raise up to $12 million for the president's re-election bid, making it the biggest presidential fundraiser in U.S. history. One hundred fifty high rollers — including Hollywood studio heads, celebrities and an array of entertainment industry execs — have paid $40,000 apiece to dine with the president at Clooney's Studio City home May 10."

Mark Wahlberg in another shirtless balcony appearance.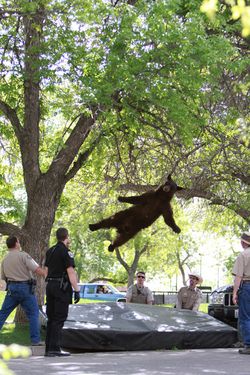 Famous falling bear struck by car, killed.

American Family Association of Pennsylvania's Diane Gramley goes after Campbell's for support of Philadelphia's Equality Forum: "When I think of Campbell's Soup, I think of the Campbell's Soup kids with their advertisement that portrays a pro-family, a family-friendly company, which is what they want to portray to the public."

Matthew Rettenmund meets the queens of RuPaul's Drag Race.

Anti-gay billboard causes anger in New Zealand: "Former councillor Dale Evans has erected a notice board in Paraparaumu emblazoned with the words 'The Gay Times Are Over – Enough is Enough.' Mayor Jenny Rowan is openly gay and was the first lesbian mayor in New Zealand."

The L.A. performance of Dustin Lance Black's '8' will soon be available digitally: "The reading — which featured Kevin Bacon, George Clooney, Jamie Lee Curtis, Christine Lahti, Jane Lynch, Brad Pitt, Martin Sheen and John C. Reilly, among others — also will be available June 1 on CD and for digital download via iTunes and Amazon and on demand at www.latw.org as of June 9, L.A. Theatre Works announced Thursday. The broadcast features added audio, including conversations with Rob Reiner, who directed the March 3 staging, as well as Black, Clooney and other cast members, plus interviews with lawyers David Boies and Ted Olson who led the charge in the courtroom against Prop. 8, the gay marriage ban."