Obama briefly mentioned same-sex marriage (though not directly) in his remarks at the Clooney fundraiser (full transcript here) expected to raise $15 million: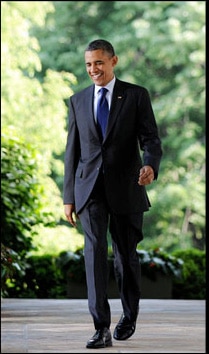 The other side has got a different view. Their attitude is you're on your own. If you're a kid born in a poor neighborhood in LA, tough luck, you're on your own. If you're a senior citizen who, because of bad luck, got laid off, or the company ended up dissolving without your pension being vested, tough luck. You didn't plan well enough.
That's not the America I believe in. That's not the America you believe in.
And obviously yesterday we made some news, but — (applause) — but the truth is it was a logical extension of what America is supposed to be. It grew directly out of this difference in visions: Are we a country that includes everybody and gives everybody a shot and treats everybody fairly, and is that going to make us stronger? Are we welcoming to immigrants? Are we welcoming to people who aren't like us? Does that make us stronger? I believe it does.
And so that's what's at stake.
Watch a Local CBS report on the Clooney fundraiser, AFTER THE JUMP…
The fundraiser, which raised at least $15 million, followed one earlier yesterday in Seattle:
Obama drew cheers for his line that Americans should be able to succeed "no matter who we are, no matter where you come from, no matter what you look like, no matter what your last name, no matter who you love."
He picked up the theme of gay rights, saying citizens of Washington state would have a chance to influence the issue.
"Here in Washington you'll have the chance to make your voice heard on the issue of making sure that everybody, regardless of sexual orientation, is treated fairly," Obama said to loud applause.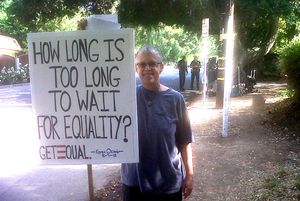 GetEqual met Obama's motorcade at a corner near Clooney's event, the L.A. Times reports:
At the corner of Fryman Road and Laurel Canyon Boulevard, where the presidential motorcade is expected to pass, an assortment of activist held signs. Among them was Dan Fatou of Get Equal, a group lobbying for better rights for gay and lesbians.
"We thank him for his support of equal rights in marriage," Fatou said, "but we need him to do more."
Obama will continue to be pressed to issue an executive order banning LGBT workplace discrimination:
A nondiscrimination order "would give concrete, real-life workplace protections to people who work for federal contractors like ExxonMobil that refuse, year after year, to add those protections on their own," said Heather Cronk, managing director of GetEqual, one of several gay rights groups pressing for action on the issue.
Two weeks ago, she said, former Bay Area activist Cleve Jones approached Obama and handed him a binder with more than 40 stories of workplace discrimination to help make the case for presidential action. Obama accepted the binder without saying anything, Cronk said.
Watch a Local CBS report on the Clooney fundraiser, AFTER THE JUMP…
Video may take several seconds to load: