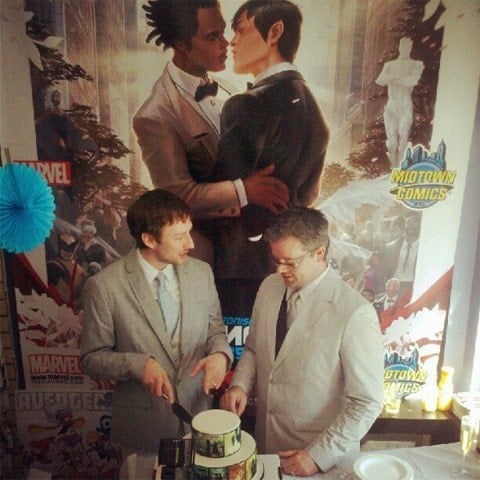 X-Men super-fans Scott Everhart, 39, and Jason Welker, 33 were selected from more than 50 applicants to tie the knot at NYC's Midtown Comics in honor of the release of Astonishing X-Men No. 51, in which gay superhero Northstar marries his boyfriend Kyle.
The above photo was posted a short time ago at Midtown Comics' Tumblr.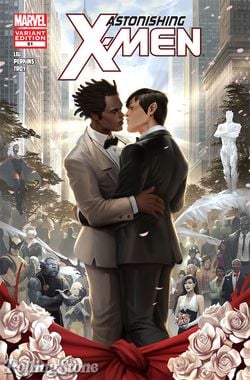 The NYT profiled the couple yesterday:
The couple had been talking about marriage this spring, but Ohio does not allow same-sex marriages. Then Mr. Everhart, a site manager at an adult day care center, stumbled onto a notice about the Midtown Comics event. "I didn't say anything to Jason until they notified me and said they were interested and going to interview us," he said. "That's when I broke the news to him and kind of proposed at the same time."
"It's a huge step for us as a couple, but also for us in the community," said Mr. Welker, an architect. The men plan to have a follow-up ceremony in Ohio for friends and family who could not make it to New York on such short notice. "My brother will be really angry with me if he doesn't get to be my best man," Mr. Welker said.
The editor-in-chief of Marvel Comics Axel Alonso is speaking out about the new issue:
Alonso said the marriage of X-Men hero Northstar and his long-term boyfriend Kyle reflected real life and was inspired by the legalisation of same-sex marriage in New York. Warning the marriage was "only the start of the story," he even hinted the characters may face a historic divorce further down the line. He said the storylines were written with readers in mind, and were a deliberate effort to show that "characters live in the same world we do."