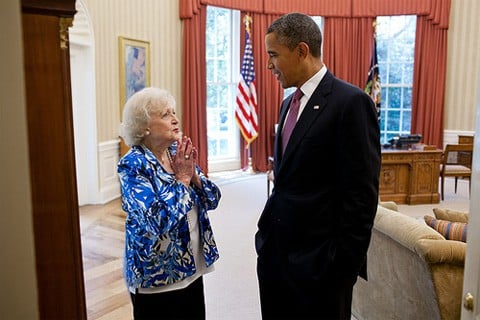 (official White House photo by Pete Souza)
Here's the most circulated photo of the day. Betty White had a meeting with Obama:
"I didn't say anything at all," said White. "He was charming and wonderful and I got a kiss on the cheek."
White said that Obama extended her an invitation, a follow up to the 90th birthday video that he sent the television star, joking that he didn't believe she was that age and asking her for her birth certificate.
"I stay away from politics," said White, declining to tell Speakeasy any specifics about her political views. "That's everybody's personal business," she added, "I'm not that deep or that bright."
The HuffPost's Chris Harnick spoke with her shortly after the meeting:
Said White: "It was a thrill to be with Mr. Obama, but the big thrill was being with Bo, their dog. He's the cutest guy you've ever seen in your life. I spent a half-hour with him on my lap."
She was also asked about being a gay icon:
Oh! I didn't know I was a gay icon. I get a lot of mail — but I don't get many bad letters — but I got a woman the other day that was so upset with me because they said, "How do you feel about the gay marriage thing?" and my answer to that is, "I really don't care with whom you sleep, I just care what kind of a decent human being you are." I figure all the rest of it is your business and not mine. And not hers, incidentally.