The Washington Blade's Chris Johnson reports that nine Senators have asked for a markup on the Employment Non-Discrimination Act (ENDA):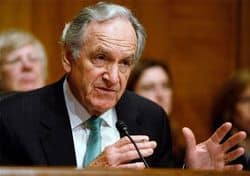 The group is asking for Sen. Tom Harkin (D-Iowa), chair of the Senate Health, Education, Labor & Pensions Committee, to hold a markup on ENDA in the wake of the panel's hearing on the legislation last week and the senator's remarks to the Washington Blade immediately afterward that he wanted "to poll the committee" about moving the bill forward.
In the week after the hearing, the Blade solicited statements from the offices of all 22 members of the Senate panel on whether they want to see the committee move the legislation to the Senate floor. Those who responded affirmatively were spokespersons for Sens. Jeff Merkley (D-Ore.), ENDA's lead sponsor, as well as Sens. Barbara Mikulski (D-Md.), Patty Murray (D-Wash.), Bernard Sanders (I-Vt.), Bob Casey (D-Pa.), Al Franken (D-Minn.), Michael Bennet (D-Colo.), Richard Blumenthal (D-Conn.) and Mark Kirk (R-Ill.), the only Republican on the panel who responded to the Blade's inquiry.
All 12 Democrats on the panel — as well as Kirk, an original co-sponsor of the bill — are among the 41 total co-sponsors of ENDA, so the bill should have no trouble moving out of committee. The legislation would bar employers in most situations in the public and private workforce from discriminating against workers because of their sexual orientation or gender identity.
Harkin remains non-committal, Johnson adds:
"I'm going to poll my committee and see," Harkin said. "Right now, I'm kind of up to here in getting [Food & Drug Administration] bill through, as you know. We got it through the Senate; we've got to work with the House on that trying to get that put to bed, and then I'm going to poll the committee and see what we want to do."