A Canadian soldier has been sentenced to five years in jail for the murder of a man he claimed made a sexual advance on him, the Winnipeg Free Press reports: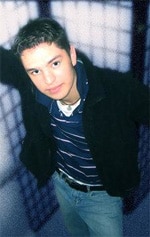 Duane Lacquette (pictured, above), known as Jon-Jon to his many friends and large Métis family, was found Jan. 16, 2010 lying naked in his basement following a night of drinking. Lacquette was the victim of a UFC-style choke-hold that strangled him.
Jason John Ouimet (pictured, below), a former amateur boxer and now a gunner at CFB Shilo, was charged with murder but pled guilty to manslaughter in late April. Ouimet claimed he passed out in Lacquette's basement and awoke to find a naked Lacquette performing oral sex on him. Crown Attorney Jim Ross said Ouimet was so infuriated by the unwanted sexual touching that he killed Lacquette when he could have used his superior size and fighting skills to simply subdue him instead.
Family and friends have said all along they do not believe Lacquette would have sexually assaulted anyone or would have put himself at risk of violence.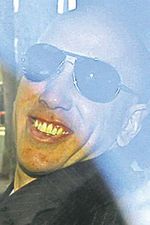 LGBT publication Xtra adds:
Alyssa Desrochers, who was a friend of Lacquette's, doubts the killer's claims. "I think Jason was down for [sex]," she speculates, "then when he wasn't drunk anymore he killed Duane in the heat of the moment."
On the night of the killing, the two men met in a Brandon bar. Eventually, they went to Lacquette's house with three young women. Ouimet expressed an interest in one of the women but passed out. The three women left and, when Ouimet came to, he claims that Lacquette was trying to have sex with him.
Ouimet, a muscular boxing champion, put the 5-foot-7, 165-pound Lacquette into a UFC-style chokehold, strangled him and stomped on his neck. He left the house without calling police and was arrested for the killing three weeks later.
The soldier has been out on bail ever since and continues to serve in the Canadian military. He pleaded guilty to manslaughter on a joint recommendation from his lawyers and the Crown lawyer prosecuting the case.