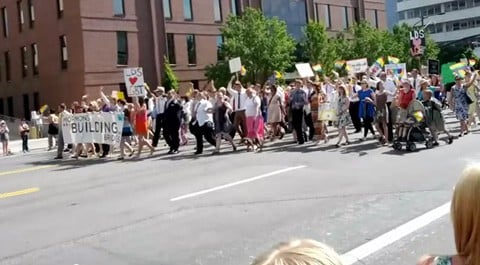 As I noted on Friday, a group of LDS Church members called 'Mormons Building Bridges' marched in yesterday's Utah Gay Pride Parade in Salt Lake City as an act of reconciliation with the LGBT community, and made quite an impression, the Salt Lake Tribune reports:
Mormons Building Bridges followed right behind [Grand Marshal Dustin Lance] Black in the parade. The men in beige suits and ties and the little girls in white dresses were a sharp contrast to the pounding music and dancers behind them, but the crowd clapped and shouted their approval for the folks in their Sunday best. Erika Munson, a mom of five from Sandy, started the group a few weeks ago to show her support for the LGBT community and to encourage members of her religion to do the same in a public way.
Holly Nelson, a 38-year-old lesbian who lives in Murray, had tears in their eyes as the Mormons walked past.
"I think it's amazing," she said. "It's been so hard to be in Utah knowing the Mormon church is against the gay community."
Black also gave a speech talking about bridging the gap between Mormonism and being an LGBT person.
Watch a video of the group marching and the Black clip, AFTER THE JUMP…